Vienna
Story
The goal of the project is the development of modular, changeable and cooling-optimized urban open spaces (coolspots) without compulsion to consume with a high quality of stay. To this end, two concrete demo Coolspots were implemented in Vienna.
A demo coolspot was implemented in the 21st district, on the land party square of the Floridsdorfer Markt (Schlingermarkt).
Another demo coolpot was built in the course of the redesign of Esterházy Park in Vienna's 6th district.
To ensure maximum specific climate effectiveness per site, the coolspots are designed and built in an optimized way for the respective surrounding structure based on microclimatic simulations. Both demo projects combine vegetative and hydrological elements of cooling, thus providing shade through a mix of artificial shading and vegetation, and cooling by spraying water in the form of spray. Effectiveness is assessed by measuring microclimatic data and presented in a before/after comparison. The erected Coolspots are modularly expandable and can be optimally integrated into the changing environmental structures in terms of function and design. By avoiding ground interventions and using innovative lightweight construction elements, the greatest possible adaptability is guaranteed.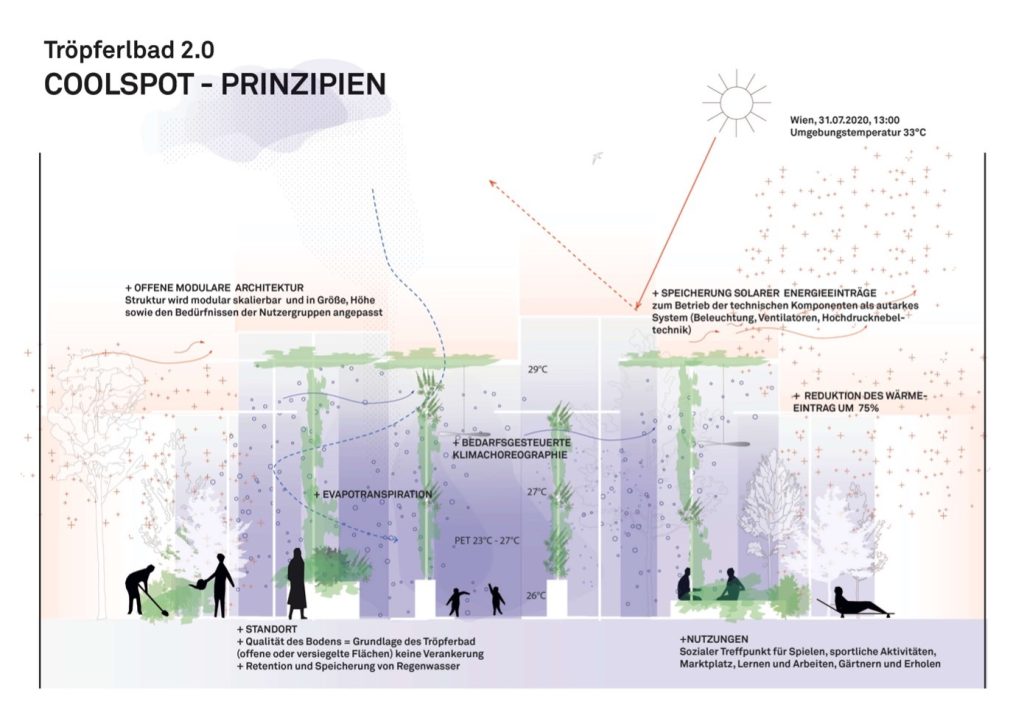 Different participation measures were tested in advance, among others with different vulnerable groups, in order to optimally integrate the needs and demands of the users and residents for the design of the Coolspot.
The project title "Tröpferlbad 2.0" refers to the first public baths, which were built in Vienna from the end of the 19th century due to the poor hygienic conditions and were a boon to public health at the time.
The results from the project and the illustrative demo examples should enable the creation of a Coolspot network throughout the city in the medium term. The public manuals that also include (classic and alternative) financing methods also serve this purpose.
The aim of the Tröpferlbad 2.0 project is to become the starting point of numerous Coolspot networks throughout Europe.